North Yorkshire Connect Community Directory
North Yorkshire Connect Community Directory (NY Connect) is an online resource for people of all ages, helping them to find out about local activities, services, advice and guidance that is relevant, reliable and accessible 24 hours a day 7 days a week.
The directory that has around 7000 entries that people looking for local services and support can search either by keywords, postcode, area, or by using the category menu. There  is a new section to the website dedicated to Coronavirus (Covid-19) support. Click here to access the directory.
HELPFUL CONTACTS IN KIRKBYMOORSIDE
The following local heroes are working together in Kirkbymoorside to deliver food to anybody who is self-isolating at home.
Jane Thomas at the Summit Bakery 01751 430033
Nick and Dian from the Moorside Store 01751 432324
David Williams from Cafe Williams 01904 404 098
Scrumptious Deli on Piercy End 01751 433 014
Jackie and Adrian from Corner Café are offering delivery 01751 431 333. A full menu is available on their facebook page.
Fresh fruit, veg, milk, eggs, butter and frozen meat is available from Daisy Garden Centre. Delivery is also offered.
Ryedale Vets are offering phone consultations, emergency appointments, and free delivery of medication and pet food 01439771166 and 01751472204
For anyone who is self-isolating due to COVID-19 help is at hand from the RYEDALE COVID-19 HELP NETWORK for picking up shopping; posting mail; urgent supplies and a friendly voice at the end of the phone:
Charlotte 07387186343
Your County Councillor, Val Arnold 01439 770904 Val is self-isolating but is available to chat with anyone if they too are out of circulation and wish to hear a friendly voice at the end of the line.
Ryedale Foodbank - To make a referral to facilitate a food parcel to be delivered to a carer please provide the name, year of birth, ages of children and any dietary requirements and pets to This email address is being protected from spambots. You need JavaScript enabled to view it. or telephone 07470564745.
If you wish to donate money or food to the local foodbank call 07800 877 932
Musical Memories are now streaming a session LIVE each morning at 11am. This is a shortened session of song, chat and reminiscences over a cuppa. It can be viewed on Periscope 
https://www.pscp.tv/search?q=Musical+Memories  
or on Facebook Live at https://facebook.com/MMCIC
Towlers Chemist 01751 431 229
10 Market Place, Kirkbymoorside, YO62 6DB
Doctors Surgery 01751 431254
Tinley Garth, Kirkbymoorside, YO62 6AR
DO NOT GO TO THE SURGERY TO BOOK AN APPOINTMENT
If possible contact the surgery online:
https://www.thekirkbymoorsidesurgery.co.uk/
Use the 111 online coronavirus service to find out what to do: https://111.nhs.uk/covid-19/
Only call 111 if you cannot get help online.
  FOR ALL EMERGENCIES DIAL 999
Kirkbymoorside Town CouncilLORS
Mayor Nick Holroyd 432767
Deputy Mayor Joe Coughlan 430199
  Sally Brown 07802 788 479
  Jeanne Cossins 432043
Chris Dowie 432305
Ryedale District Council Telephone: 01653 600 666 
  Community Officer: James Draper
  Telephone: 01653 600666 Ext 43318
  E: This email address is being protected from spambots. You need JavaScript enabled to view it.
Ryedale Our Community and Coronavirus: rye-charter.org.uk
DISTRICT COUNCILLORS
  David Cussons 431714
  Tony Riby 432193
  COUNTY COUNCILLOR
  Val Arnold 01439 770904
PLEASE EMAIL This email address is being protected from spambots. You need JavaScript enabled to view it. IF YOU ARE ABLE TO OFFER ANY ASSISTANCE & YOUR DETAILS WILL BE ADDED TO THE NETWORK CONTACTS.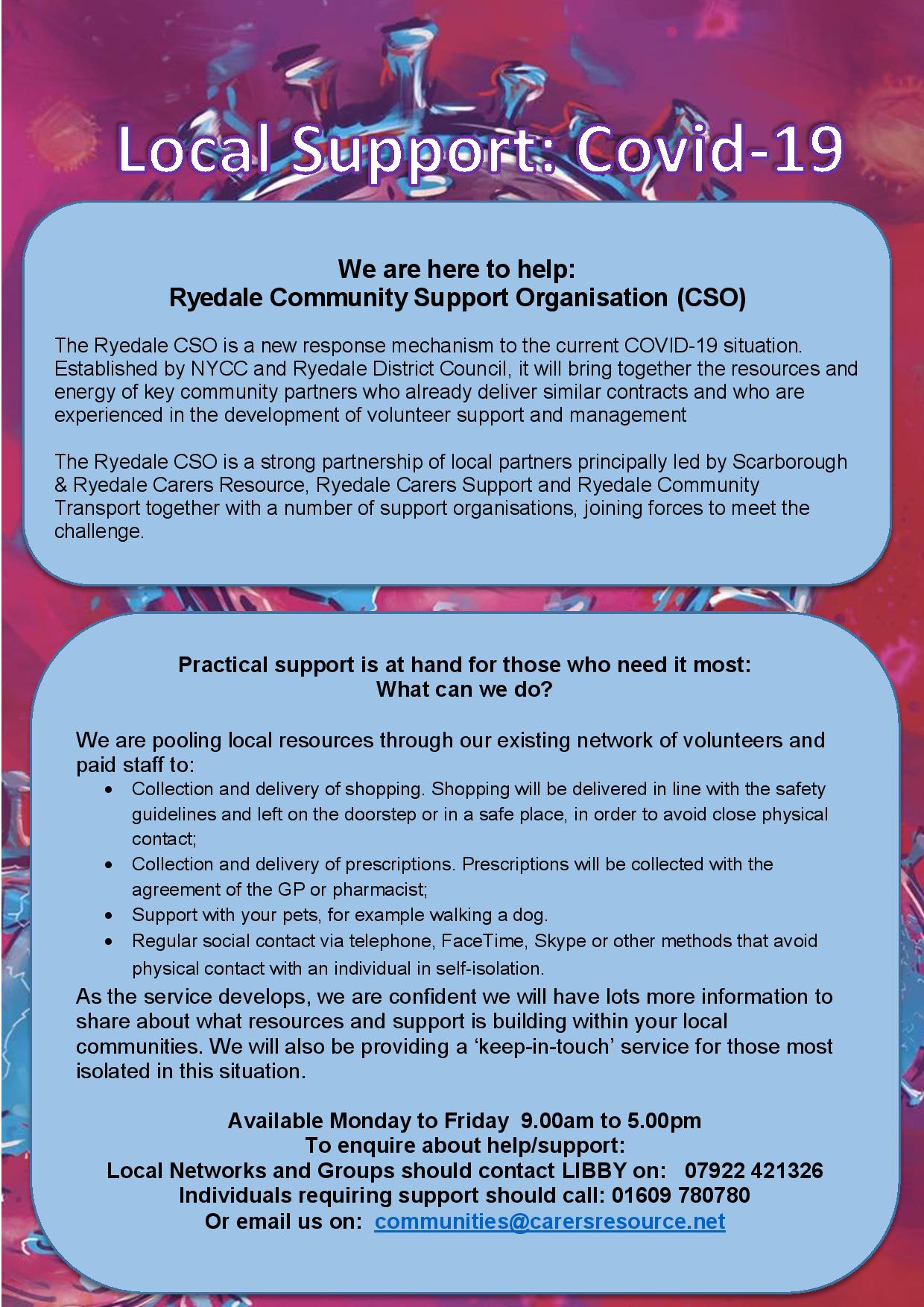 FREE WI-FI
Kirkbymoorside Town Council are pleased to be the first and only town in Ryedale to have a
in the town center provided by CLANNET. The Moorside Room @ 9 Church Street acts as the hub for the new network and Essential Health & Beauty kindly allowed their building to be a host site for a repeater allowing the signal to be transmitted from the top of Piercy End along the length of Market Place and High Market Place.The Free Wi-fi initiative brings free openspace internet access to residents, shoppers and visitors to Kirkbymoorside.