Quite a few problems can be reported through Fix My Street - a web site with links to Ryedale and North Yorskhire Councils.
The Moorsider is the town newsletter and is published about four times a year.  A copy is delivered to every household in Kirkbymoorside.  You can download a copy of the latest edition here.
Previous editions are listed below:
The Moorside Room @ 9 Church Street, Kirkbymoorside, YO62 6AZ is available for hire. The space is ideal for exhibitions, meetings, children's parties, exercise classes, fund raising events and is the venue for the Kirkbymoorside Musical Memories sessions.

Click Here for a Booking Form
HIRE CHARGES
Commercial bookings @ £10 per hour
A 30% discount is available to Local Community Groups and Charities @ £7 per hour
Rates may be negotiated for block bookings and certain events such as exhibitions at the discretion of the Town Clerk.
Manor Vale is extensively used by the local community for quiet recreation and has open public access. It is located at the northern edge of the town, and is owned and managed by Kirkbymoorside Town Council. Read more about it here.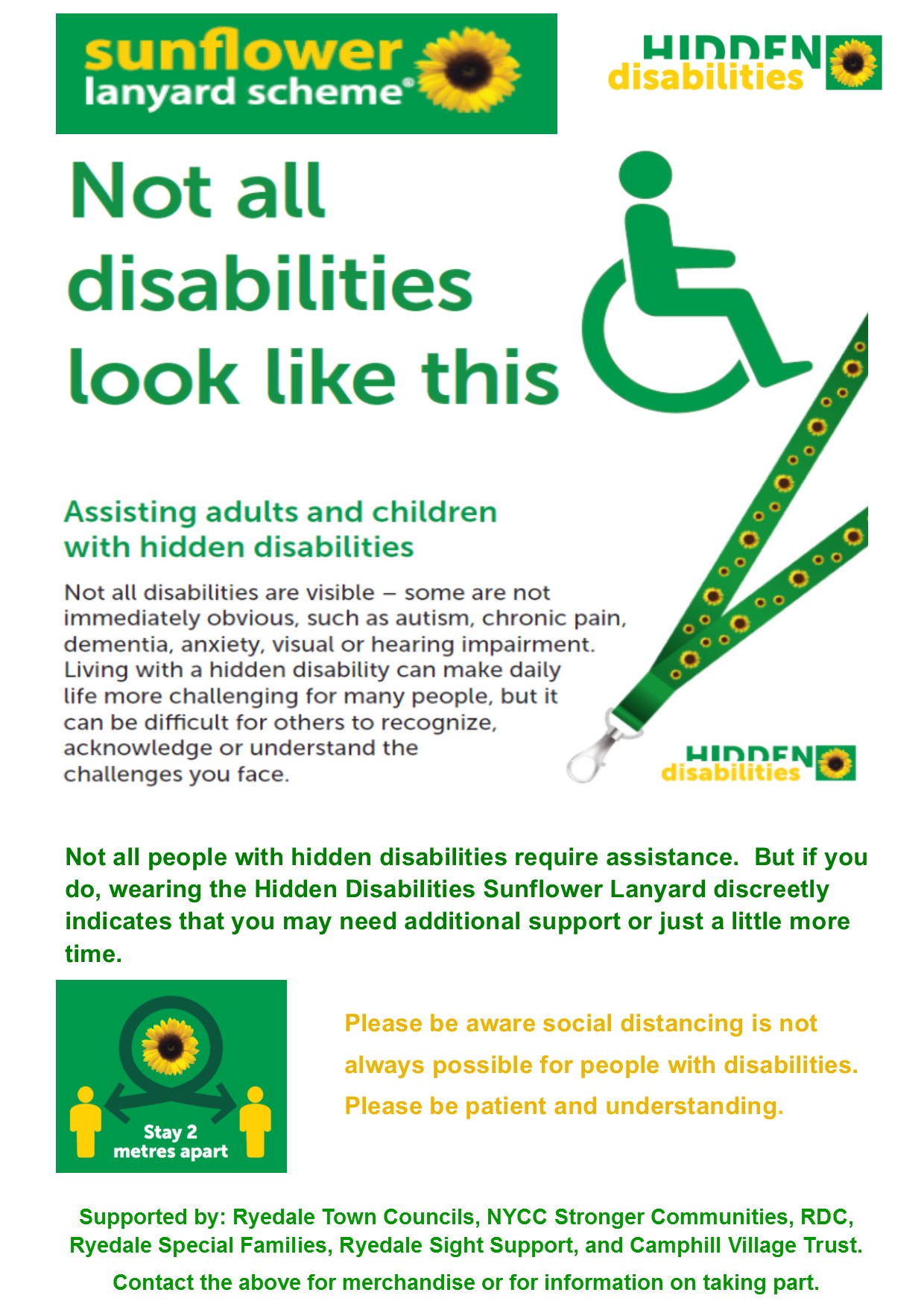 If you have a hidden disability and would like one of the sunflowers they are available from the Town Council.
Please email

This email address is being protected from spambots. You need JavaScript enabled to view it.

 or call 01751 432 217 for more information. 
If you are a local organisation and would like to register with the scheme please email

This email address is being protected from spambots. You need JavaScript enabled to view it.

 for more details.
North Yorkshire Connect Community Directory (NY Connect) is an online resource for people of all ages, helping them to find out about local activities, services, advice and guidance that is relevant, reliable and accessible 24 hours a day 7 days a week.
The directory that has around 7000 entries that people looking for local services and support can search either by keywords, postcode, area, or by using the category menu. There  is a new section to the website dedicated to Coronavirus (Covid-19) support. Click here to access the directory.