Quite a few problems can be reported through Fix My Street - a web site with links to Ryedale and North Yorskhire Councils.
The Moorsider is the town newsletter and is published about four times a year.  A copy is delivered to every household in Kirkbymoorside.  You can download a copy of the latest edition here.
Previous editions are listed below:
The Moorside Room @ 9 Church Street, Kirkbymoorside, YO62 6AZ is available for hire. The space is ideal for exhibitions, meetings, children's parties, exercise classes, fund raising events and is the venue for the Kirkbymoorside Musical Memories sessions.

Click Here for a Booking Form
HIRE CHARGES
Commercial bookings @ £10 per hour
A 30% discount is available to Local Community Groups and Charities @ £7 per hour
Rates may be negotiated for block bookings and certain events such as exhibitions at the discretion of the Town Clerk.
Manor Vale is extensively used by the local community for quiet recreation and has open public access. It is located at the northern edge of the town, and is owned and managed by Kirkbymoorside Town Council. Read more about it here.
Ryedale Community Transport invite you to join them in helping to raise money to replace their low floor wheelchair accessible bus with a custom built vehicle which will serve the whole of Ryedale. The cost to date is a staggering £78,000. This bus will be used 6 days per week and visit numerous isolated villages, collecting passengers and bringing them into the market towns of Ryedale to allow them to carry out tasks such as banking, shopping, hairdressers etc.
Two events have been arranged so you will have the opportunity for a night out whilst raising funds.
Join the party!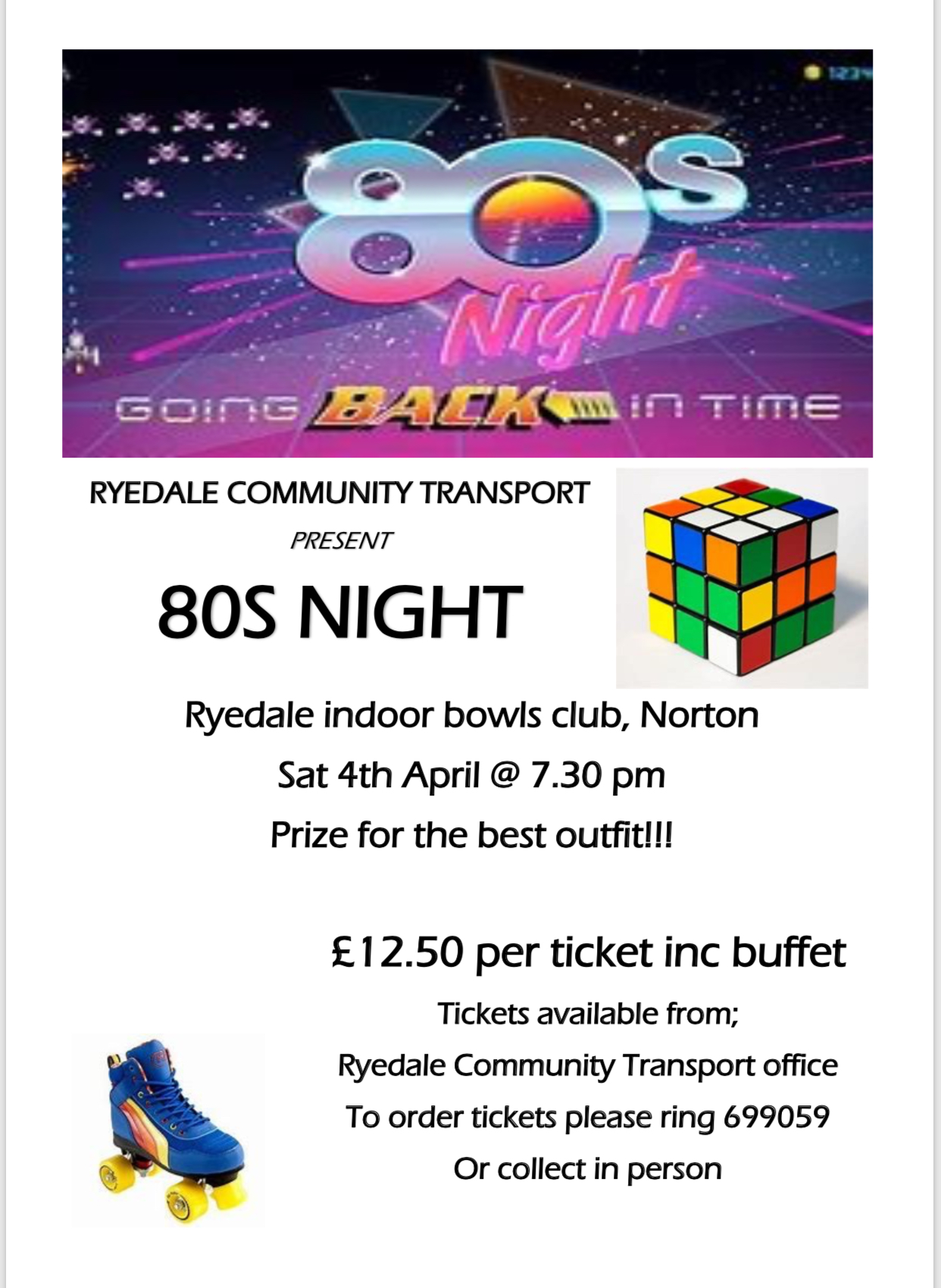 Yorkshire Water have provided notification of works associated with the installation of new water fittings in West End.
From 13 January 2020 work will start to install some new fittings to the water supply pipes in West End. The works will be carried out by Morrison Utility Services from 8am to 5pm Monday to Friday and possibly Saturday morning for reinstatement work. It is hoped that the works will be completed in 1 week.
If you have any questions, please contact the Yorkshire Services Customer Service Team on 0344 848 1099 (Monday to Thursday 8am to 5.30pm and 8am to 5pm on Friday) quoting reference 2133301709002 Scheme Ref: R1550